QUESTION
Hi Jerry,
Thanks for the reply. Im more interested to find out how your US partners generally finance their homes? I am retired US military, and planning to move to the Philippines in January. However, I am finding it difficult to use lenders who will finance a home in the Philippines because it is outside the US. So I was interested to know what some of your US clients have done?
ANSWER
You have to be in the Philippines to apply for a loan. Your Filipino wife or fiancee can apply for a loan, which is also hard to get due to numerous requirements like collateral.
Most of our foreigner clients pay in cash. I haven't heard of one who went to a bank and apply for a loan. Our company has been operating for 9 years and that is our experience…
=================================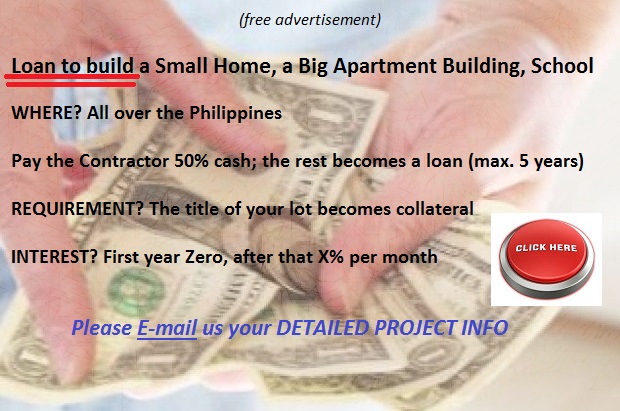 Bank loan in the Philippines; financing for housing, what's the interest rate and requirements for application for American expats and foreigners?
bank home loan interest rates in the Philippines pag ibig housing loan calculator house loan best home loan; lowest
apartment building financing apartment building loan plans apartment building designs apartment business loan apartment construction loan apartment construction cost of building apartment financing apartment loan rates
commercial loan interest rates
loan for apartment building
Best bank for housing loan Philippines and collateral loans.
Financing companies in the Philippines for foreigner owning property.
Home loan interest rates Philippines
Housing loan calculator Philippines; what are the interest rates for OFW and can we use Pag Ibig?
Money lending in the Philippines (5 6); money loan or mortgage or non collateral loans and Philippine real estate loans