a MORE AFFORDABLE way to build QUALITY HOMES
- STRONG: Roof, Floor and Walls monolithically poured IN ONE-STEP
- GREEN and LIGHTWEIGHT: using up to 50% LESS CONCRETE (cement)
- ROOF DECK as bonus (that's a HUGE EXTRA FLOOR-SPACE!)
- SPEED: Made in a factory; transported to your lot; placed in 1 day… (Industrialized Building System)
- ready for additions; to expand your home in the future
- attractive designs; Tropical, Minimalist, Mediterranean etc.
- INSULATION optional
- not only for Homes; also for Mass Housing and Mid to High Rise Buildings, Dormitories, Rentable apartment units etc.
=========================
Waffle Box Building Technology (for 'Budget-Conscious Clients')
WE WILL BUILD AT MUCH LOWER COST THAN ANY OTHER PHILIPPINE CONTRACTOR…
When? The first actual construction is scheduled at the last quarter of 2013; but we are already very busy with designs, talking to developers etc.
What? Homes, Mass Housing and Mid to High Rise Buildings, Dormitories, Rentable apartment units, Rent-to-Own condominium units.
Where? First Luzon, later Visayas and Mindanao. Then the rest of the world.
Speed? VERY FAST; we can install your home within 1 day…
Plus:
- you will have a huge ROOF DECK as bonus…
- you can build by phases (add a bedroom later when you have the budget). We can design your house 'ready for additions'; to expand your home to suit the needs of a growing family.
- 'Waffle Box Building Technology' is about 10x stronger than the ordinary hollow block walls. Earthquake-, fire-, typhoon-, hurricane and flooding resistant (no joints).
- It's GREEN CONSTRUCTION. Saving up to 50% Cement; it's lightweight.
- It's a 'Industrialized Building System'; They are precast, pre-finished and plug-in units.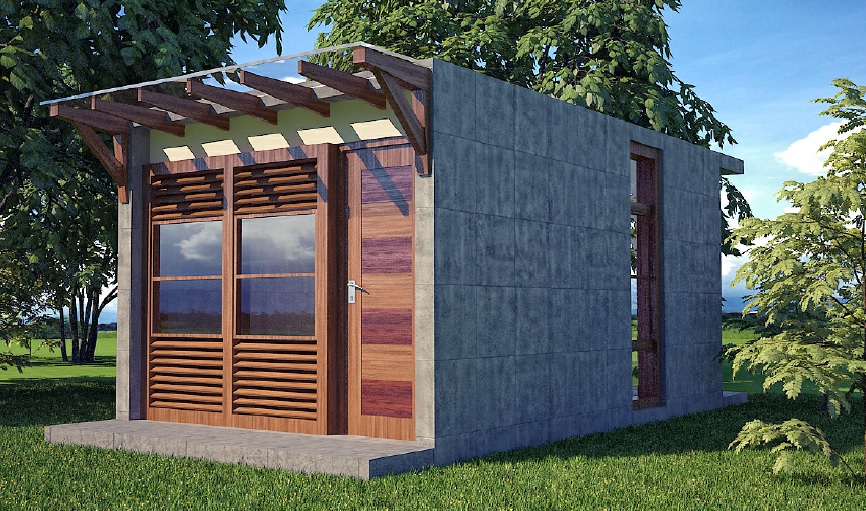 Our 'Waffle Box Building Technology' reinforced concrete homes are disaster-resistant to tornado force winds, storm, hurricane, typhoon, earthquake.
Rather than building your home as 'separate wall, floor and roof elements', connected by a variety of debatable techniques (!), we form the shell of your house as a six-sided box-rigid-frame, like the hull of a ship or the fuselage of a submarine; a concrete envelope of poured monolithic reinforced concrete. Intimately connected with steel reinforcing bars.
Then we let the concrete dry ('cure') and (if requested-) we attach doors, windows, tiles, paint etc.
After this, we transport your home (in parts) to your building-site where a crane lifts them into place. We connect the units together; welded, bolted and/or with dowel connections. 'A house in 1 day'.
Finally; our crew will take care of the 'final finishing touch'.
CONTRACTORS! DEVELOPERS!
… we pour 6 homes in 1 day …
… with only 1 form …
We are preparing designs of model houses plus apartment-buildings (for OFW's to have supplemental income!) that will cost you less than any other Philippine contractor can offer.
With this technology (being cheap, durable and fast), we will build
homes, mass-housing, apartment buildings, offices, hotels, student accommodations, schools and dormitories all over the Philippines; and we can still use some investors…
After the conventional (hollow blocks), cast in-situ concrete, precast- and prefabricated plus composite building technologies; Waffle Box Building Technology is the latest building method. Non comparable with the old 'column and beam' or 'panel systems' with it's cumbersome joints which are very sensitive to mistakes…
'Waffle Box Building Technology' is engineered and optimized to place concrete precisely where it is structurally required for strength (Portal Frame), reducing the use of concrete by maybe 50%. Hence lower cost…
We deliver your house or 8-storey dormitory at your doorstep; pre-painted, with electrical and plumbing ready, sound- and heat insulated optional.
How to save a lot of cement – concrete?
Making cement (the grey powder to make concrete) requires a lot of energy; it's not environmental friendly. That's why many effort is being made to find ways to reduce the use of cement.
For example 'Green Concrete' and 'Cementless Concrete' are already available in the Philippines.
However; who wants to be 'a guinea pig' and take the risk of using these new (expensive-) products?
We do not want to compromise the structural integrity of your building. We simply introduce vertical and horizontal steel reinforced ribs (micro beams and columns) to the walls and slabs that will resist all the building loads. It performs like a 6 inch thick wall (same strength)… while the 'skin' or 'voids' between the ribs is only 2 inch thick…
This way we reduce the use of cement plus steel by maybe 50%… and the 'foundation' can be reduced because the whole building is light-weight…
Hence the name 'Waffle Box' construction technique.
After all 'ordinary' concrete has been used for decades and those buildings are still standing…
We don't believe in 'endless rows of one-storey bungalows on individual lots'; real estate becomes too expensive near the cities so 'vertical construction' is the way to go.
The Future of the Philippine Construction Industry
It's a matter of 'Long-term Thinking'
We build ships, airplanes and cars in a factory… for obvious good reasons; increased quality and speed, reduced cost.
But when we need to build a house.. there comes all the workers, machineries, tools and materials to the lot where the building is to be constructed…
As a result there is inconsistent quality, delays, material waste and a dangerous working environment.
Oh, and did I mention HIGHER COST??
Assembly-line automation is THE obvious future for construction; industrialised building system (IBS).
Or else we will pay more and more to build our home or apartment building etc.
Yes, Industrialized Building System means less labor needed; especially 'Unskilled Labor' (included 'foreign workers' or OFWs).
So you can bet your bottom dollar that any government of a developed country will push IBS to save millions by reducing the dependency on foreign workers and stop the outflow of currency. 
While 'Waffle Box Building Technology' is not a 'one size fits all' solution; it might be THE solution to the growing demand for affordable housing… not only in the Philippines or Malaysia but all over the world.
Waffle Box Building Technology is not just 'industrialized construction'; it is simultaneously a lower cost-, faster-, stronger, lighter- and new building method.
Advantages of Waffle Box Building Technology (which is an Industrialised Building System):
- lower cost (yes that's correct; lower cost).
- higher- and consistent quality.
- light weight; less cement plus less steel reinforcement bars needed and less cost for transport or lifting.
- speed; earlier occupation of the commercial building or a fast activation of your investment. 'While you process the building permit; we build your apartment in our production hall'.
- earthquake-, fire-, typhoon-, hurricane and flooding resistant.
- attractive architecture; freedom, flexibility and options for creating your own style.
- less labor.
- Reduced construction materials costs; we buy in bulk and receive a discount (try that with your local hardware store…).
- less waste of building materials.
- building site is clean and quiet.
- construction operation is less affected by adverse weather condition.
- you can expand your home to suit the needs of a growing family; who doesn't need more space as time goes by..??
———————————————————–
Waffle box is an industrialized building system.  They are precast, pre-finished and plug-in units. This patented technology which we own has standard rooms or livable units or boxes for the buyers to choose from. The production of the boxes being uniform is fast and cheap. Further, these waffle boxes were designed to comply with the DPWH standard for mobile cargoes.
We have a technology (waffle box) that is insulation-ready.  It is an Industrialized Building System that are prefabricated, pre-finished (in fabrication sites) , plug-in units which is fast and high resistant to earthquake and hurricanes.  We hold the patent both for local and international.
We also invite investors or partners of this technology in the Philippines and also worldwide. Or for low rise houses (2 to 3 floors) we can use aerated concrete as material for insulation.
Industrialized Housing Production is the only solution
The Philippines will have an expected mass housing backlog of more than 4 million units in 2016. Jerry's invention is not only a construction method for social housing; it can also be used for custom designed (or select from our models) homes, dormitories, schools, apartments, condos, boarding-houses and other commercial buildings…
Industrialized Housing; building your home in a factory
We don't believe in construction methods like 'panels between columns' (weak joints) or 'gluing concrete hollow blocks together'; our building system is unique (worldwide patent pending) and involves monolithic poured 3D three-dimensional modules, volumetric cast-in-place concrete construction (precast box) with less 'dead load' (up to 50% less cement and steel) which takes place off site in a remote warehouse (or on-site when the order is big) and are then transported by truck to the building site where the units are lifted in place by crane.
Industrialised Housing; like making cars on a production-line; cost savings through economies of scale. Weather delays, missing materials, and subcontractor no-shows are eliminated, saving time and money.
The latest 7.2 magnitude earthquake in Bohol and Cebu plus the Super Typhoon Yolanda (Haiyan) that hits Central Visayas are also lessons for those who consider construction as 'an ordinary thing'… It's MANDATORY to build with a durable technology and seek services of only professionals…
Most Pinoys will probably rebuild their home exactly the same way; and wait for the next devastating storm. The Philippine government hopefully will build SUSTAINABLE and AFFORDABLE housing for them.
But what makes a house 'Super Typhoon- and Earthquake Proof'?
Forget about a 'corrugated steel sheets roof'. It appears to be technically IMPOSSIBLE to construct any 'concrete home' with a 'corrugated steel/zinc sheeting roof' (whether with wooden frame or steel purlins) that will withstand a direct hit from a 'Super Typhoon' like Yolanda without substantial damage.
Contrary to popular belief, most homes are NOT blown over during a Super Typhoon. Instead, you will most likely hear a 'strange sound' coming from the ceiling for a while… after which the complete roof will explode outwards followed by your appliances and maybe the cat.
Thus; consider a concrete roof deck…
'Waffle Box Building Technology' has it all.
It is a 'reinforced concrete shell design'; concrete floor, walls and roof deck (ceiling), reinforced with steel bars and monolithically poured in one-go. Using one form only… (How do we do that?? Just ask us by E-mail…)
It lacks the (weak-) connections of 'wall-panels or hollow blocks between posts' and/or pre-cast roof panels.
It has the structural integrity of an aircraft fuselage or a ship hull.
It has 'portal frames' every 60 centimeter distance; they are steel bars inside the poured concrete which look like a 'door jamb':
Each portal frame consists of a 'ring of steel bars' which is casted in one-go inside your concrete floor, walls and roof deck (ceiling). Using one form only… (How do we do that?? Just ask us by E-mail…)
The walls plus roof is 6 inch thick where needed (portal frames); 2 inch thick in between, to save about 50% concrete/weight.
PS: we build apartments, hotels, schools etc. exact the same way, typhoon- and earthquake proof…
A secure safe room? Evacuation shelters in the Philippines
Instead of making your complete house 'typhoon- and earthquake proof', you can opt to put one 'Shelter Waffle Box' (20 square meter) in your garden, to protect you and your family against flying cars… Adjusted with steel doors and window shutters.
Shelter construction in the Philippines; for bomb, underground, fallout, emergency, earthquake, disaster, tornado, storm, tsunami, radiation etc.
Public transport problem?
Spending many hours to get from your work to your house? Would you do that when there is 'affordable housing' near your work?
It's either 'spending Billions on futile infrastructure improvements' or 'building affordable homes near the city'.
For densely populated and economically progressive cities like Manila, Cebu etc. the solution is clear.
Of course an 'affordable community' have to include open spaces, proper water, electricity, healthcare and education; a full-facility low-income housing town planning should respect nature, democracy and tradition.
Great business opportunities; retirement investment Philippines
We are about to start the construction of a 6 storey apartment in Makati city. Near Market Market.
You can own part of that and have it rented out… and earn supplemental income… there's a lack right now of affordable rental apartments for call-center agents and BPO people who are the yuppies of the Philippines. 
1. You hedge against peso stronger exchange rate
2. you invest while construction cost is still low
3. you invest in realty of which the value never goes down
4. you earn perpetual income
5. small investment
6. long term profit
7. bigger returns on investment
8, safe, unlike investing in taxi, where your car is exposed 24 hours to
risk
9. basic need, which is shelter
10. near business center where transport is accessible and recreational
facilities are just at walking distance.
——————
The Philippine government maybe can not provide enough manufactured houses; so let them enable us and others (private developers and joint ventures) to help.
We also need micro housing finance companies, who offer loans to financially excluded people with work but without formal documentation of their earnings, like ambulant vendors.
Lean Construction in the Philippines: We focus on two things; 'housing factory production' and motivating our employees. By continuous education on delivering value to our clients, and involvement in every aspect of our company, SOLIDCON and YOURHOME created INTERESTED workers which is the number one importance to survive as a business.
concrete building construction methods    concrete building construction type    types of building construction    types of home construction
concrete building construction
fastest building construction fast construction techniques fast concrete construction fast building technology Philippines
quick wall construction quick building structures quick building house quick building systems quick building solutions
row house subdivision townhouse apartment
commercial construction companies
Alternative materials wall homes concrete structures cheap low cost low income sustainable affordable modular social green energy efficiency subsidized conventional modern flexibility assembly prefab pre cast mass housing industrialized housing large scale formal housing housing shortage in developers of housing joint venture manufacturer manufactured contractor builder architect design box system formwork units factory housing production consistent quality student flat dorm apartments homes houses residential india low cost housing construction companies low cost housing construction methods low cost housing construction techniques low cost housing solutions low cost housing architecture low cost housing building systems developers design research technology 2013 mass housing partnership development condo guidelines code investment corp low income housing niet zooo affordable rental sustainable housing methods cost effective economical shipping container homes.
custom home builders design build contractors
general contractors Cebu
local builders local construction companies luxury home builders new home builders
We are preparing designs of model houses plus apartment-buildings (for OFW's to have supplemental income!) that will cost you less than any other Philippine contractor can offer.
GD Star Rating
loading...
Waffle Box Building Technology Philippines

,