Philippine wall insulation panels Philippines walls panel contractor wall covering paneling interior design Cebu siding sidings
Philippines Wall Insulation Panels
Exterior Insulation and Finish Systems (EIFS)
Save on aircon bills - Keep the noise out
What's EIFS ?

1) Exterior Insulation and Finish Systems; an exterior building wall product; a system of materials.
2) provides insulation, weatherproofing and a finished surface in a single integrated product.
3) does not support the building, but rather is a cladding, like brick or siding.
4) is very lightweight, has excellent insulation characteristics, and is moderately priced.
5) looks like traditional stucco or concrete.
6) can be used on many types of Philippine buildings, including homes, apartments, condos, offices, shopping centers, high rise buildings, stores, hospitals, hotels, stadiums, government buildings, and many more.
7) has a number of features that contribute to its popularity, including a modern seamless look, the ability to mimic other materials, reasonable cost, and high energy efficiency.

To insulate Philippine walls you can cover ('paneling' or 'cladding') them outside with panels made of smooth granite stones or clay bricks which are backed with a thick layer of poly-urethane foam that keeps the heat (and noise) outside the building.

Let your old house looks like new; RENOVATION.
| | | |
| --- | --- | --- |
| | Provides also aesthetic beauty of the structure. | |
Saves Energy Cost.

Insulate against heat and noise.

Provides aesthetic beauty of the structure; a feature that directly impacts the property value.

Surface looks like granite stones or clay bricks; many colors to chose from.

Virtually maintenance free and no paint needed.

Worthwhile investment for many years to come; the panels are not cheap but they pay themselves back over the years.

Used for homes, industrial plants, offices, factories, stores, schools, churches, commercial buildings, government institutions etc.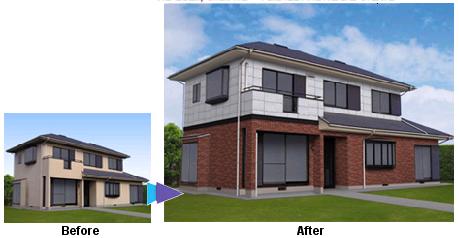 Let your old house looks like new; RENOVATION.

A digital photograph of your old house can be taken for simulation of the desired color and design pattern of the panels that you select. This way you can see how it will look like.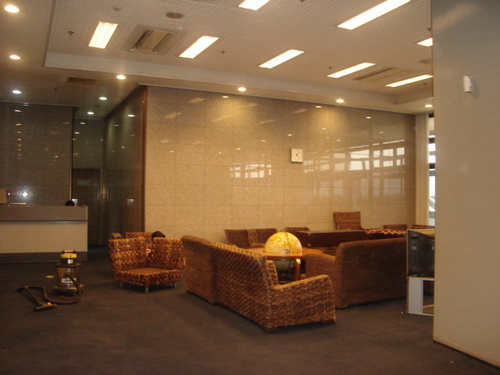 | | | |
| --- | --- | --- |
| | Not only for outside; also for INSIDE RENOVATION, like on this picture of the VIP-Rooms at Mactan Cebu International Airport. | |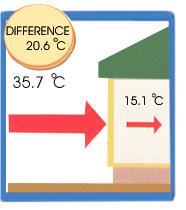 While warm outdoor temperatures try to force their way into your air-conditioned rooms, you enjoy the benefits of lower air conditioning bills.


With Philippine insulated wall panels plus roof insulation, you will rarely hear street noises.

Philippine wall panels are made of high quality oven baked clay bricks or natural granite stone tiles decorative finish on the outside part.

They are glued to a 'sandwich structure' which is made up of a galvalume (aluminum zinc alloy coated AZ150) sheet, poly-urethane foam and aluminum foil.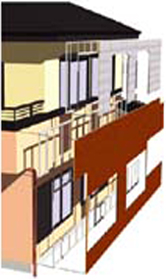 | | | |
| --- | --- | --- |
| | Each Philippine wall panel is attached to many 'stainless steel anchors' (studs and runners) which are embedded in the outside wall. The panels are not prone to damage due to earthquake, because they will just sway with the movement of the ground. | |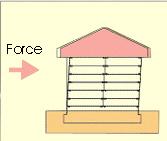 During earthquake, this way of Philippine construction eliminates the lateral movement of the structure, which would otherwise produce cracks in conventional concrete or mortar finished walls or walls that use plain ceramic-tiles that are cemented to the wall.
It allows the wall to sway sideways thus eliminating cracks and deformation on the wall surface.
We can provide all your Philippine walling, roofing and flooring requirements
philippine construction company > philippine home builder > house builder design philippines > building a house in the philippines > philippine contractor > philippine home design architect > sitemap > directory > links 1 2 3 4 Links 2 House Design Philippines? House Floor Plans Philippines? Interior Design Philippines? earthmoving; drainage; water supply/ irrigation; roadworks; slope protection; flood control; and all other support infrastructure facilities. Prefab pre-fab walls prefabricated Asia perspective duplex uPVC doors and windows Philippines landscaping Philippines Philippine contractor Philippine Swimming Pool construction and Landscaping? home builders and architects for Philippine construction Philippines house design, plans, construction, home builders, contractors and architects in Cebu City, Manila, Cavite, Davao, Baguio, Iloilo, Bohol, Laguna, Batangas, Mindanao, Pampanga, Tagaytay, Angeles, Subic, Dumaguete, Olongapo, Bulacan, General Santos, Cagayan de Oro, Leyte, Makati etc. Filipino residential landscaping price two storey three four commercial custom feasibility. Cavite / Batangas / Laguna Davao / Mindanao developer directory bill of materials BOM land surveyor suveyors Philippines precast pre cast Filipino outsourcing asphalt Phillipines Philipines Philippines walls insulation panel Philippine wall panels contractors wall covering paneling interior designs cladding Philippines siding curtain wall sidings siding Stucco, Wall Systems, Windows, Curtainwall, Framing, Sealants, Sheathing, and Coatings synthetic stucco wall framing, sheathing, flashings, caulking, water barriers, windows, doors, and other wall components