Philippine roof contractors; metal roofs or polycarbonate Cebu repair and construction Philippines roofing Manila materials design also in Cagayan de Oro CDO polycarbonate Manila
Philippine Polycarbonate Roof Panels for small- and big projects

( plus polycarbonate sheets for Office Workstations, Cubicles and Partitions )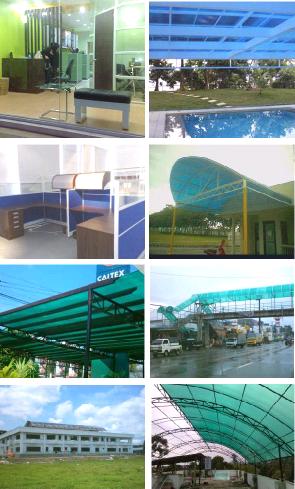 Translucent ('Plastic Roof') Panels provide soft diffused light
select from a number of colors and a range of light transmissions

No rust, rot, scale or mildew.

Impact strength is 250 times greater than glass; shatter resistant.

Strong enough to walk on.

Chemical & Corrosion Resistant.

Applications; Philippine homes, industrial-, commercial- and agricultural buildings, factories, pharmaceutical- and industry plants, entertainment and amusement centers (swimming pool) as well as gas stations and oil refineries.

Chemical & Corrosion Resistant "built-in" ultra-violet and weather protection.

Thermal Insulation; Save electricity because it transmits sunlight while deflecting the heat of the sun.

Lightweight; it is just 1/8 the weight of glass so it does not require extensive (expensive-) structural support.

Fire Retardant.
Our polycarbonate cost less while it is better quality...

We only sell GRADE A (100% Pure Virgin Resins) with 10 years guarantee

There are other polycarbonates sold in 'Do-It-Yourself stores' but check their quality; we are sure that it is 100% or partly recycled:
GRADE B ( 50% virgin and 50% recycled materials) with 5 years guarantee
GRADE C ( 100% recycled ) with 3 years guarantee

TIP: IF THERE IS NO GUARANTEE INDICATED JUST BEWARE...

Recycled polycarbonate will last only for 3 months and it will surely crack and disintegrate as it ages (lifespan: 2 to 3 years).


satisfied customers:

National Power Corporation (NAPOCOR)
Nestle Philippines
Pepsi Cola Philippines
Resins RI Chemicals
Holcim Cement Corporation
Pryce Corporation
Philbev-Coca Cola Bottlers Phils. Corporation
Asia Brewery Inc.
Solid Shipping Lines
ATO Cagayan de Oro Airport
Philippine Ports Authority– Region X
Grolier International
Paramount Insurance Corporation
Monterey Foods Corporation
San Miguel Purefoods
Rio Verde Water Consortium
Mechanical Handling Equipment Company Inc.
Bureau of Internal Revenue Region X
Department of Budget and Management Region X
DENR X
Cagayan de Oro Water District
etc.

... also office design in the Philippines using polycarbonate ...

Philippines roof contractor; metal roofs or polycarbonate Cebu repair and construction Philippine roofing Manila materials design also in Cagayan de Oro CDO polycarbonate Philippines