Philippine Construction Cost
...In Cebu we build at a GUARANTEED LOWEST COST...
The cost to build your house in the Philippines (or commercial building) depends on the exact location (is it possible to use a truck to bring the materials or do they have to be carried?), total floor area (make the house 2x bigger and the price will become 2x higher), the logistics/accessibility (city or province or island?), regulations/restrictions of the local government or subdivision ('they all have their own rules'), soil-type, site preparation (maybe backfill or retaining-wall?) neighbor-buildings, availability of local skilled labor, source of electricity/water etc. plus you have to select what construction methods have to be used (hollow blocks or other) and what level of finishing you want (low-cost, average or high-class).

If you want a contractor to build far from the big cities than expect higher avarage cost.

Make the house 2x bigger and the price will be very roughly 2x higher.
You want solar panels? Vaulted ceilings? Double Glass? Ceramic Roof Tiles? Decorative stones on outside walls? Higher quality kichen and bathroom? Then you pay more.

Be Aware: if you want to build far away from the big cities then a local contractor can offer a lower cost estimate BUT local workers mostly just do not have the skills that 'city-laborers' have while contractors who are located near the city will mostly be exposed to more projects and therefore have more experience and can offer better construction-methods. Therefore it is wise to hire a contractor from a 'big city' to supervise the construction; he will bring a few experienced workers and he will hire local workers from your place also.

Also take notice that ONLY Manila and Cebu have all the building-materials available that you need; outside those cities you have no choice other than to buy some materials in Cebu or Manila (means higher cost).
HARDWARE STORES IN THE PROVINCES OFFER LIMITED BRANDS AND ARE EXPENSIVE BECAUSE OF SCARCE SUPPLY. In Boracay for example you might pay dubbel for cement...
TIP: A more realistic approach to determining the cost to build a house in the Philippines might be to simply work backwards. Start by determining how much you can afford to spend, then be realistic about the size of the house you need (every square meter counts!) and finally, decide what you can afford to build.

Be advised that when you want a contractor to bid (quote) for your project, you need to show the blueprints. This is to avoid 'comparing apples with pears'; every different design has a different price.
---------------------------------------------------------------------------------------
Payment Possibilities (evaluated on a case-to-case basis):
Option 1: expect to pay 30% to 50% of the contract-amount CASH at contract signing.
The rest by 'progress billing' which means you pay every month as long as the construction is going on (about 5 months).
It is wise to buy ALL building materials at the start of construction; not every month little-by-little because prices will not likely go down PLUS you get a nice discount at the hardware store for buying in bulk.

Option 2: (only if you own a titled lot) 'Inhouse Financing'; terms negotiable.

Option 3: get a loan at any bank to finance the lot and/or construction.

---------------------------------------------------------------------
What is the cost to build a home in the Philippines?

The cost to build your house or commercial building depends also on what level of finishing you want:

A) 'Budget' or 'Low Cost' (ordinary ceramic tiles or vinyl, ordinary paint, G.I. galvanized steel long span roofing, steel casement windows)

B) 'Average finish' (ceramic- and granite tiles or wood floor panels/parquet, good quality paint, insulated G.I. galvanized steel long span roofing, steel casement windows, cabinets in kitchen and bedrooms)

C) 'High-end first-class finish' (imported tiles or wood floor panels/parquet, Decore- or Multiflex paint, wall-mouldings, insulated G.I. galvanized steel long span roofing or clay tiles, aluminum or PVC framed windows, laminated cabinets in kitchen and bedrooms, hot and cold water)

Do not trust contractors who give you a price per square meter; You do not like 'guess-work'.
How can someone quote a price WITHOUT telling (and showing-) you EXACT which quality materials will be used..???
They have to bring you to the hardware stores to show what quality finishing materials they will use.
We have seen contractors make a roof with galvanized sheets so thin that it was not possible to walk over; (imagine what would happen at the next typhoon) but if you do not mind those kind of 'qualities' then you can save many money to build your house...
It has always been custom to show detailed plans or blue prints to the contractor (including list of materials) if you want him to bid for the construction project.
Think also about this: how can you compare the biddings from different contractors when they are based on DIFFERENT designs..?

Who has never dreamed of building a home in the Philippines? Some dreamers really go to work. Building a house is becoming more accessible for any budget because of new construction technologies.

How much is the cost of building a Philippine home? The more money you have, the better your chance to be able to build a detached house. Do not expect a palace if you have little to spend; less money also means more concessions to be made.

There are several ways to obtain a building plot. Maybe you have relatives who own a piece of land where you can build your dream-house? Otherwise you will have to buy a lot somewhere.

Since for building a home a Philippine building-permit is required, you are legally obliged to turn to an architect. He will translate ideas into drawings, but also he will check the actual condition of the lot. An architect can also help you to find Philippines construction companies or contractors. All architects, a nobel profession, have their own fee. Do you go directly to the cheapest or also look very critically at the reputation of the architect? Prefer a slightly more expensive one than an architect you do not trust.

Very important is that the style of your Philippines architect fits your style. It does not make much sense to an architect who specializes in modern buildings to design a traditional Filipino home. Therefore search on the Internet and library for examples of architectural styles.

Choose appropriate colors and materials.
With the proper use of color on the walls and furniture to reach the most. Use bright colors on the walls or cool colors like blue and green. White is also possible, but may soon seem bleak. Light colors reflect more light than dark colors and works 'changing'. Two opposite walls to a dark room look fresh. That's because so-called hot colors foreground colors are, who you seem to come off. They absorb more light than cool background colors. If you painted the back lighter than the side walls, it seems that wall is further away. Keep the ceiling white, even a slight tint can make the ceiling appear lower. The type of paint is important. Matt paints absorb light and has a soft image, while shiny paint reflect light. That gives a spatial effect, but can sometimes hurt the eyes.

After the purchase of a lot and choosing an architect you have to aply for a buildingpermit at your municipality. Each plan is submitted to the engineers, who assess whether the appearance of the building fits the policy that the municipality has established. If it is approved, you look for a contractor and then you day in and day out check the construction. Building a house also means that you have to decide everything. What is the layout of the kitchen? What color tiles and what quality and color etc.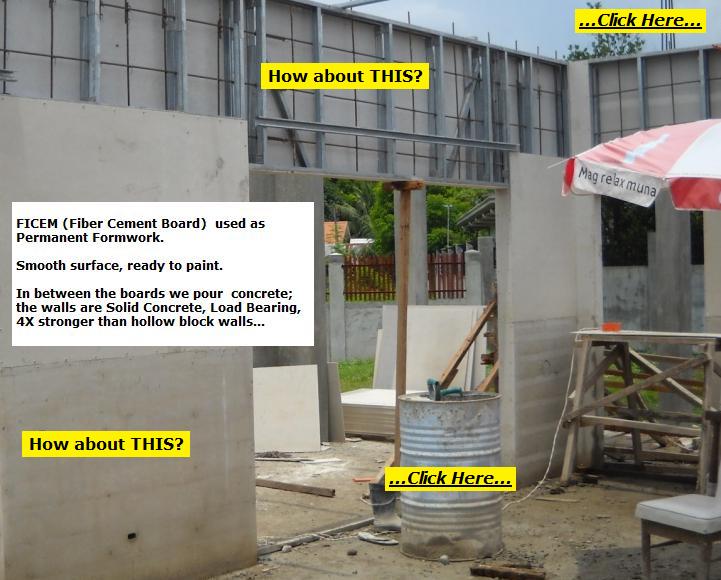 Philippine contractors are everywhere. On the Internet dozens of large and smaller companies offer their services. Perhaps the architect you hire can help in choosing a suitable contractor. It is wise to choose one that has experience.
You should inquire in the neighborhood or the town. Perhaps they also know a thing about the reputation of contractors in the region. Question in any case several contractors so you can compare and ask quotations.
Read the contract carefully whether there is a clause which states that in case of a late finishing of the house the contractor gets a fine.

You will not be the first to be disappointed by a contractor. Therefore it is very important to select a professional and certified Philippine construction company. Choose carefully with whom you work together. If you spend too little money you might get not a cheap house but a heap of stones...

Enter discussions with a few architects and compare them with each other. Then make an informed decision. Make sure you have all the necessary permits before the actual construction of your house is about to start. If you do not, then there is a chance that the municipality requires that you to discontinue the project.

The first Philippine houses were probably built of clay and bamboo. Later came the whole wooden houses of sawn planks, and later houses were built of brick or hollow blocks. Today houses are often built with concrete, some with insulation and finished with faηades. Because building with wood also has some disadvantages like termites. In high-rise buildings where concrete will be used, there should be a good foundation be created.

Draw a floor plan of your new room.
It is difficult to estimate how much things fit in your new room. Draw your room therefore to scale on paper. Draw on another paper the furniture (to scale) that you like to have in your room. Cut them out and put them on the map of your room. So you know not only what fits in your room, but you also know where is the best place to put down the furniture. Try to leave the area as open as possible and especially in the corners and along the walls to place your furniture.

With a limited space, you should also think in height.
A very practical purchase for example is a high sleeper. Many teenagers said in their teenage years farewell to this because they were too childish. For a student however it is a giant advantage. Under the bed you still have room for your desk, bench or clothes. If you find a single bed too small, there are also high sleepers in the size of a queen or a double bed on the market.

Make an inventory.
In a small space you have not many options . Therefore, make an inventory. Sort your stuff and see if it is really critical that everything in your room is there. You really need all those boxes of books? In the first instance put only the stuff that you use daily or weekly. Rubbish you can always pick up later, if you have space.

Make a list of stuff that you still need. A minimum inventory consists of a bed, a desk and a cabinet. Everything else that fits in your room is a bonus. Ideal furniture does not have to be solid and make sure you can pass through or under it.

But only the Philippine furniture is not enough. If you are staying in rooms, you will also need other stuff. For example pans, plates, cutlery and a trash can. Agree with your new roommates what stay and what you should take.

Buy practical and affordable furniture and other things. In one afternoon you can shop your whole room together from the blinds to a brush. You just want something special, or you have little money to spend for your room? Go to a second-hand-Market and retail outlets.

No Space? Buy a Sofa Bed.
A sofa bed is a good investment if you have some space shortage. So you not only have a nice place to sit, but also to sleep.

Paint walls and ceiling.
It is a myth that when you paint your room white it appear larger. You can also give walls a color, just do not forget to also paint the ceiling (possibly a couple shades lighter). Dark walls with a ceiling light reduce the room. Paint the window frames and boards in a neutral color, so that your room not looks chaotic. Check in advance whether the landlord approves your plans.

Student rooms are often a collection of old furniture, not really a unit. But there can be something easy to do about it! The old bank of Grandma you can give a new look with a cheerful grand Foulard (a large sheet whit which you cover the bank). Storage Boxes in different sizes are also helpful for all your towels etc.
Make sure you do not use too many different colors in the room.

Play with optical effects.
With mirrors it looks like it increases the space of the room. The best place for a mirror is when the space outside the room is reflected. This might be really outside, but also other rooms.
Cabinets that go through the ceiling to make your room even "bigger".

Do you have many photoframes? Hang them within a framework so that the outer sides of the frames are together in a large square or rectangular shape.
Do you have a low bed, then boxes are the ideal storage spaces.

Just because there is no mandatory course about interior decoration, people learn with trial and error. What is more common that people do not feel completely at ease in their homes without knowing exactly why. Interior Architects say that you have to realize that at almost every point a choice can and should be made. What do you want with a space and is there also a use for it? Do you want a souvenir on the window sill or do you think it is not so beautiful? And that table; is it there only because of a coincidence?

An interior begins with the foundation or floor.
After the floor, its the walls and the ceiling's turn. The furniture, furnishing and lighting comes thereafter. Do not buy not a standing lamp with the idea that the color of the walls have to be the same. Lighting, although certainly not be underestimated, may be the last to be done. The light plan is much more flexible than for example the location of your furniture. If you decide to go past things like decorative objects and paintings on the wall.

Bring attention away from less beautiful things.
The misconception that many people make is that empty corners should be filled with a lamp. So: there is a dark hole, there must be a lamp stand. But as in a corner, for example, a rare gas pipe or something else is ugly, you should of course not highlight that. So keep it dark unless there is attention to be drawn to it. Beautiful large plants are very suitable.

Sometimes there is a conflict between what is good and what is practical. Obviously you are practical, but the attitude towards beautiful things is also a practical usefulness of housing. That can sometimes outweigh another small practical advantage of accessibility. Your refrigerator is not so beautiful. Of course it's helpful not to do too much walking to get milk. But if that ugly thing it is out of sight; better.

Is your interior decor something you are not happy about? It is perhaps in some way "out of balance." Judge not equal to the furniture, but try to shift accents. View the interior agree with the eyes of an artist or architect. Please note geometric properties such as lines. A radiator is a horizontal line, a curtain is a vertical line. At three to four clearly visible lines in a room is usually enough. They give the view alone. Look at color. Make that a plan behind it by the number of different colors in the space limit. Choose a basic color and let them come back at several places.

Bring atmosphere in your home.
The art of making your home attractive is the installation of atmosphere, without your personal taste that dominates. Bring therefore atmosphere in your home by making small adjustments. If you are in a modern, light home, then you get more by all unnecessary accessories right away. Look also at what you find enjoyable, and if the atmosphere that you want to create you prefer, you can convey much better. Let yourself be inspired by craft and skill and see what feels good to the house. How you can pamper yourself with a nice home? Put fresh flowers down and a dish with fruit. It provides a delicious smell and associate with "good for you." Turn also open a jar of coffee in your kitchen (or even hide ofcourse!). Coffee is associated with 'you feel at home."

... Click on the pictures ...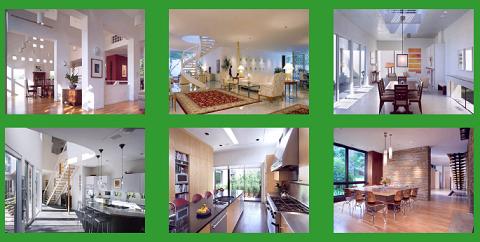 How to select a Philippine contractor?
If you ask a Philippine contractor to calculate the price of building your house he needs to know exactly what design you like, all measurements and what materials you select; maybe you want imported materials or Philippine-branded or 'not-branded with the same quality' (which is cheaper) etc. etc. The cost of building a house in the Philippines normally depends on the design, floor area, location, materials & method of construction, even the timetable will adversely affect costs.